First Standardised Guidelines to Measure Plastic Pollution Across Corporate Value Chains Published by the Plastic Leak Project
Leading sustainability consulting group Quantis and ecodesign center EA, together with 35 member organizations and stakeholders  announced the release of the Plastic Leak Project (PLP) Guidelines in February – the first standardized methodology to map, measure and forecast plastic leakage across corporate value chains. Plastic leakage is the potential amount of macro- and microplastics that are not kept in a circular loop or properly managed at their end-of-life, and thus leak into the environment. The PLP guidelines allow companies to move from commitment to science-based plastic strategies and meaningful actions on addressing plastic pollution.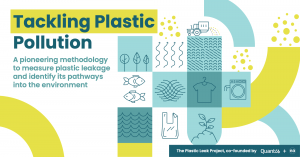 "The Plastic Leak Project has made important advancements towards a credible accounting system for plastic leakage at product level," affirms WWF-US's Alix Grabowski, Manager, Plastics and Packaging — a PLP member. "This process has brought together many key organizations and provided a robust way forward. It's essential that all stakeholders commit to improving data collection and transparency regarding plastic value chains, waste management, and pollution, and we see these guidelines as one piece of the puzzle as we work towards our broader No Plastic in Nature vision."
Read more at: https://quantis-intl.com/plastic-leak-project-guidelines-press-release
---
Share your comment
You must be logged in to post a comment.
---
Top