Hybrid beef-lentil burgers "increase nutrition and environmental gains," study finds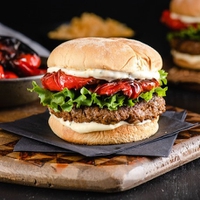 Combining lentils and beef is a winning combination for building a better burger. That is according to a recent study, funded by Lentils.org and Pulse Canada, which found that substituting one-third of a lean beef patty with cooked lentils results in a blended burger that is more sustainable, nutritious and cost-effective. 
The study's life cycle assessment (LCA) evaluated the environmental impact of a combination lentil-beef burger, reformulating a lean beef patty with 33 percent cooked lentil puree. The blended burger reduces the carbon footprint, water footprint and land-use footprint by about 33 percent. The research also found that the blended burger had an added 3 g of fiber, 12 percent fewer calories, 32 percent less saturated and total fats and 32 percent less cholesterol per 4-oz serving. Opting for this blend also lowers the price by reducing production costs by 26 percent. 
"With an estimated one-third of US consumers identifying as 'flexitarian,' people are looking for ways to incorporate more plant protein into their diets while still enjoying animal products," says Amber Johnson, Director of Marketing and Communications at Lentils.org. "A lentil blend offers consumers a chance to align preferences with aspirations." 
Read more here.
---
Share your comment
You must be logged in to post a comment.
---
Top