Advanced LCA-2: Individual & combined modeling of uncertainty & variability in LCA/concepts & software modeling
Wednesday 24, June 2020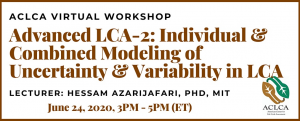 Presenter: Hessam Azarijafari, Ph.D., MIT
June 24, 2020
3:00 – 5:00 pm
There are multiple sources of variation that should be incorporated in the process of decision-making when conducting a comparative life cycle assessment (LCA) results. In this interactive 2-hour online workshop, the mathematical modeling procedure and the used parameters will be explained, and the general framework of the model will be explicitly presented.
Three sources of parameter uncertainty, model uncertainty, and uncertainty due to methodological choices along with the variability will be presented with several common examples. In addition, different tools for running Monte Carlo simulations will be discussed and two examples of the individual and combined assessments of uncertainty and variability will be presented.
Ticket price for ACLCA and LCANZ members: $25-$90 USD.
For registration and other event details, click here.
---
Top