Advanced LCA virtual workshop: Consequential LCA and dynamic aspect for infrastructure systems
Wednesday 10, June 2020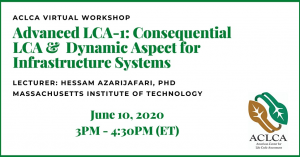 Presenter: Hessam AzariJafari, Ph.D.
June 10, 2020
3:00 – 4:30 pm  (ET)
The American Centre for Life Cycle Assessment (ACLCA) is offering an interactive online workshop, in which modeling details related to the CLCA framework will be explicitly presented and compared with those in attributional LCA (ALCA). Then, various opportunities for the inclusion of temporal dynamics in CLCA studies will be discussed. Several examples related to pavement life cycle components will be presented to elucidate the importance of selecting the relevant LCA framework on the conclusion.
Ticket price for ACLCA and LCANZ members: $25-$90 USD.
For registration and other event details, click here.
---
Top