Sherry Handel, Executive Director of the AMGTA talks about plans for full LCAs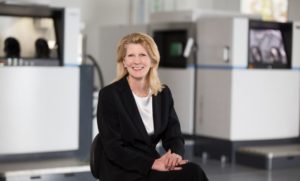 Last November at Formnext 2019, aerospace and defense AM company Sintavia announced the launch of a new trade group aimed at promoting the environmental benefits of additive manufacturing technologies. The group, called the Additive Manufacturer Green Trade Association (AMGTA), is now in its early stages of operation and is being led by Sherry Handel, an expert in non-profit management and entrepreneurship. 
In a recent interview, Executive Director Sherry Handel talked about the AMGTA's mission and membership and how it is focusing on research to not only understand the environmental advantages inherent in AM but also to help the industry evolve into a more ecological and sustainable sector. 
Excerpt: "The AMGTA is focused on commissioning academic research. Initially, we're focusing on full life-cycle assessment (LCA). This means looking at what it takes to produce a particular part via both traditional and additive manufacturing processes: from the ore that's mined out of the ground, processed and refined to an AM powder through the gas-atomization process, transported, and then the energy used in the machine to produce a part, the emissions produced and all the steps, and there are many that I haven't mentioned, up and through the part's eventual end of life when it is no longer useful. We want to understand what the environmental impacts are all along the way, from cradle to grave. It's important to focus on the full life-cycle assessment, because otherwise it would be like operating in a silo. By only looking at machine energy, emissions or waste in the manufacturing process we won't have the full environmental impact." 
Read the complete interview here.
---
Share your comment
You must be logged in to post a comment.
---
Top