LCA study of New Zealand mussels and oysters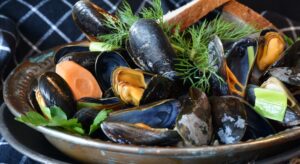 Using a Life Cycle Assessment (LCA) to compare the sustainability performance of Greenshell Mussels and Pacific Oysters farmed in New Zealand with other sources of dietary protein, thinkstep-anz identified a business opportunity for the aquaculture industry to appeal to carbon-conscious people who can't quite wean themselves onto a 100% vegetarian diet. That's because New Zealand mussels and oysters have among the lowest carbon footprints of all animal protein. In fact, the carbon footprints involved in producing shellfish and tofu (from farming to domestic retail) are comparable.
The LCA report, published in November 2021 also uncovered opportunities to help New Zealand producers of mussels and oysters reduce their carbon footprints further. These include improving packaging, using more green energy, and increasing domestic sales.
To find out more, read an overview of the results, or download the entire report, click here.
---
Top